So Malaysia's favourite couple, former Prime Minister/Finance Minister, Datuk Seri Najib Razak and wife, Datin Seri Rosmah Mansur are currently being tried in the court for their respective charges la. If you haven't been keeping up with their court cases, then you can make a quick read here and here.
WOW. Anyone ever went detention 57 times?
Most of these charges are to do with bribery, abuse of power and money laundering… so we got to searching for another number – How much has Najib allegedly cost the Rakyat?
Oh and cos we don't wanna be neighbours with any politicians (geddit, geddit), we're sprinkling this article generously with ALLEGEDLYs. In fact, we're counting the number of times we use ALLEGEDLY for each point to indicate to you how dependable the information is. The more Allegedly, the more you should take it with a pinch of garam.
Let's start with the small stuff first.
1. Asking a car rental company to build…. solar panels for remote schools in Sarawak
Alleged cost to Rakyat: RM 0  (Jepak Holdings claimed it wasn't paid yet) to RM 1,250,000,000 
Alleged pocket to Najib & Co: RM 6,500,000 (Court documents)
Allegometer rating: 3 allegedlys 
Unlike schools in the Peninsular Malaysia, rural schools in Sarawak usually get their electricity from diesel generators. So, in 2015, the previous govt initiated a solar power project to replace diesel generators with solar panels to generate electricity to these schools efficiently. About 369 schools were involved in this project.
But what was weird about this was how the project was reportedly awarded to a… car rental company based in Bintulu called Jepak Holdings Sdn Bhd!? This company was allegedly awarded with this RM1.25 billion project for three years because its owner, Saidi Abang Samsudin, has some kind of connection with Rosmah la. So, what's in it for Rosmah?
Rosmah allegedly received RM1.5 million for awarding this project to Jepak Holdings. This company wasn't only responsible of building solar panels for schools but also took over the supply and management of diesel generators.
However, the project seems to have no progress within the first 18 months. That's not all, the company was even reportedly called irresponsible for causing 30 schools to blackout on the first day of school itself due to lack of diesel supply. Aiya!
At the time of writing, Rosmah is currently being charged for allegedly asking RM187.5 million from Saidi for helping Jepak Holdings securing the project and for receiving RM1.5 million from this project. And just recently, she was reportedly accused of accepting another RM5 million from Jepak Holdings for the same reason!
Despite these charges, Saidi claimed that his company hasn't even received any payment from the govt.
Besides Rosmah's case…
2. EPF buying overpriced land and building phantom hospitals
Alleged cost to Rakyat:  RM 800,000,000 (hasn't been returned to Malaysia Rubber Board) to RM 7,400,000,000 (second case hasn't been investigated yet)
Alleged pocket to Najib & Co: RM 6,600,000,000 (leaked documents)
Allegometer rating: 6 allegedlys
There are actually two separate cases involving the Employee's Provident Fund (EPF).
In the first scandal, EPF allegedly bought land located somewhere between Sungai Buloh and Kota Damansara, from the Malaysia Rubber Board (MRB) in 2010. But wait, it wasn't as simple as that.
And that's because, there was actually… a MIDDLE MAN!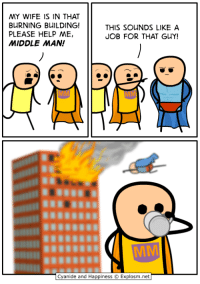 Aset Tanah Nasional Berhad (ATNB), which is a special purpose vehicle under the Finance Ministry btw, allegedly forced MRB to sell off its land for RM1.5 billion. Two years later, ATNB allegedly sold off that same piece of land to EPF for a whopping RM2.28 billion, profiting RM800 million from this. Wah, how did the price of land increase in such a short time?? ATNB claimed that the price was reasonable la since there have been some development on it.
Despite the allegations, the money might not have ended up in anyone's pocket. This is because, according to Najib, the money can be claimed from the Finance Ministry.
The second case, is actually quite scary, since it's a pretty crazy sum of RM6.6billion! But it's mostly based on several leaked documents presented by Sarawak Report but since there isn't any current investigation going on, let's just take this with a pinch of salt, okies?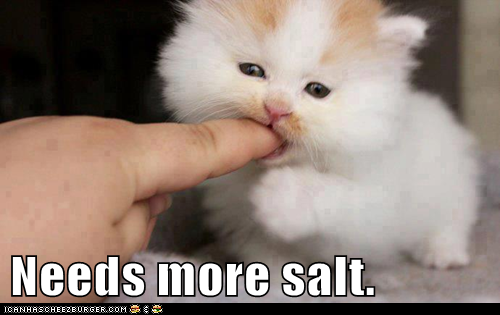 So, back in 2012, EPF allegedly transferred its bonds worth RM10.64 billion to a foreign company called Limage Holdings SA, which was owned by a certain Dr Gyorgy Matrai (yes, you probably pronounced it wrong). EPF allegedly did that to fund a hospital project but, long story short, that project didn't really materialise.
However, what actually happened, according to those leaked documents, was that Dr Gyorgy was allegedly asked to raise USD4 billion (RM16 billion) cash off the back of those bonds. Sarawak Report also received an additional information that some USD1.6 billion (RM6.6 billion) was allegedly channeled to Barisan Nasional (BN) just before GE14 to fund its election campaign.
At the time of writing, EPF has reportedly lodged THREE police reports claiming that Sarawak Report presented fake documents. However, Sarawak Report believed that this case is legit since some of the sources who were involved in this case had reached out to other news portals like Canberra Times.
3. ECRL train project investing in…. Jho Low?!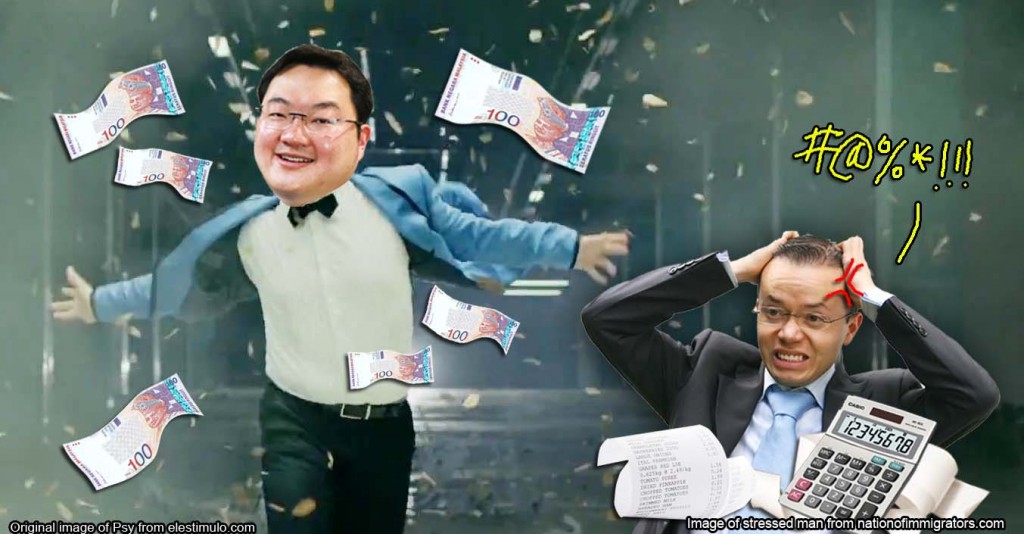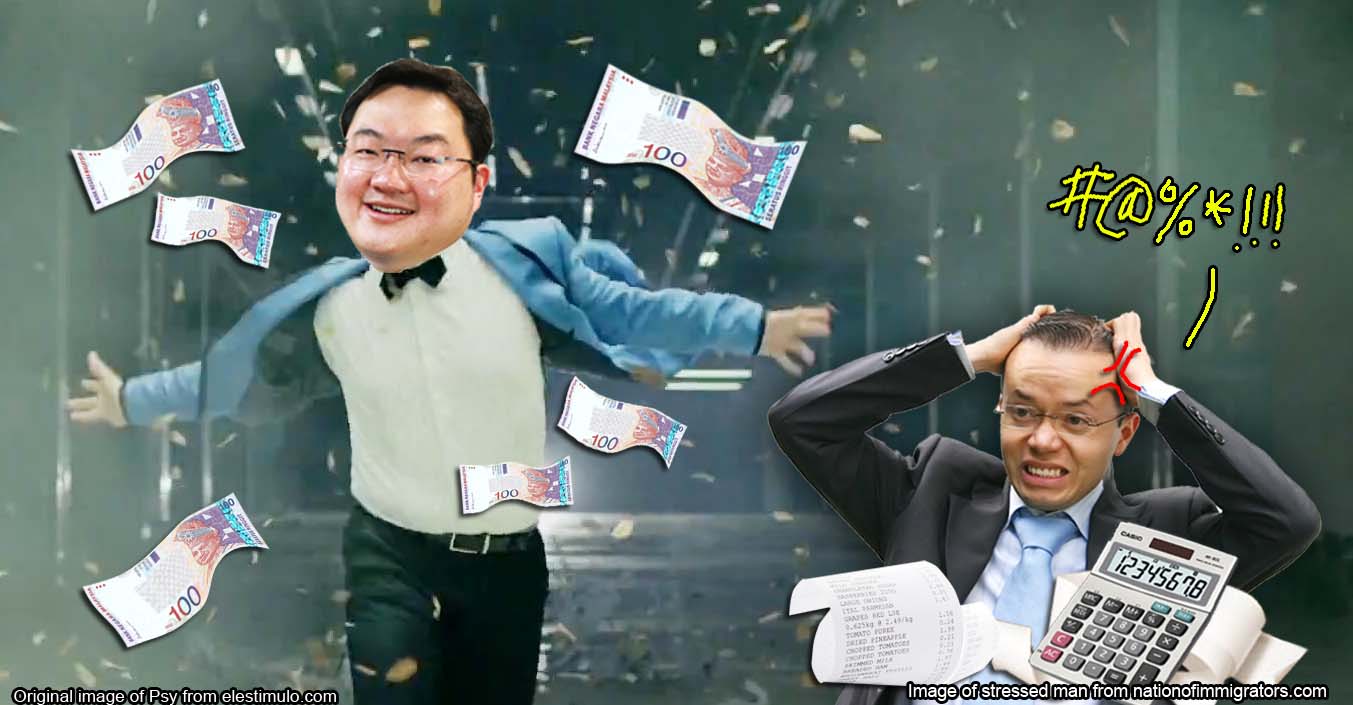 Alleged cost to Rakyat: RM 19,680,000,000 (total amount paid to CCCC) – RM 1,000,000,000 (CCCC returned to govt) = RM 18,680,000,000
Alleged pocket to Najib & Co: RM 1,300,000,000 (leaked ECRL documents on investment in Jho Low's companies)
Allegometer rating: 3 allegedlys
So back in 2016, the govt reportedly signed a project with a China company, China Communications Construction Company (CCCC), to build a train railway from Klang Valley to Kelantan. Based on leaked documents presented by Sarawak Report, the original cost of the project was RM30 billion. However, the govt and CCCC allegedly agreed to inflate the cost of the project to… a whopping RM60 billion!
Based on the leaked ECRL documents, a huge part of the excess RM30 billion was allegedly used to pay back 1MDB's debts (chup, more on this later). Some USD315 million (RM1.3 billion), on the contrary, was allegedly used to buy shares from two companies which belong to… Jho Low. The companies are known as the Putra Perdana Berhad and Loh & Loh Corp Bhd.
Although the cost of project was allegedly inflated to RM60 billion, Lim Guan Eng recently revealed that the actual, total amount of ECRL is RM80.92 billion instead of whatever amount that might have been presented la. And out of total cost of ECRL, Guan Eng mentioned that the govt has reportedly paid RM19.68 billion up to February this year.
Fortunately, CCCC has recently agreed to return RM3.1 billion in stages from the payments made for this project. At the time of writing, only RM1 billion has been given back while the remaining amount would be refunded three months after the first deduction was made.
4. The case of submarines that couldn't submerge even after 17 years
Alleged cost to Rakyat: RM 3,700,000,000 to RM 4,700,000,000 (amount paid for two submarines that can't submerge -_-)
Alleged pocket to Najib & Co: RM 166,000,000 (William Bourdon, French lawyer)
Allegometer rating: 3 allegedlys
Remember the Scorpene scandal? The one where military submarines were bought when Najib was defence minister in 2002? Yeaaah, the case was re-opened in 2018. Since Najib is getting charged for other things, investigators decided to take a look again at whether kickbacks were allegedly given when they got the submarines. In 2002, Najib claimed that they purchased the submarines for RM 3.7 billion in a news conference. However, recent reports claim that the purchase from dockyard DCN International was for about RM 4.7 billion.
And yes, those submarines failed to submerge during their warranty period, and we actually can't find any links that suggest they did eventually work. Some help ugaiz?
Anyway, a French lawyer, William Bourdon said access to the bank accounts of a Hong Kong shell company (Terasasi) could allegedly give clues about this case but he couldn't get to these accounts so he lodged a corruption complaint on behalf of Suara Rakyat Malaysia (Suaram). He said that Terasasi had allegedly been used to divert RM 166 million as kickbacks.However, at the time of writing, the investigation that was opened in 2018 has been stalled so there aren't any new info on this case as of now.
5. And of course, 1MDB
Alleged cost to Rakyat: RM 11,002,000,000 – RM 514,140,000 (Equanimity sale) + RM 1,200,000,000 (Khazanah funds) = RM 11,687,860,000
Alleged pocket to Najib & Co: RM 2,464,400,000 (court documents)
Allegometer rating: 7 allegedlys (Najib was charged with it)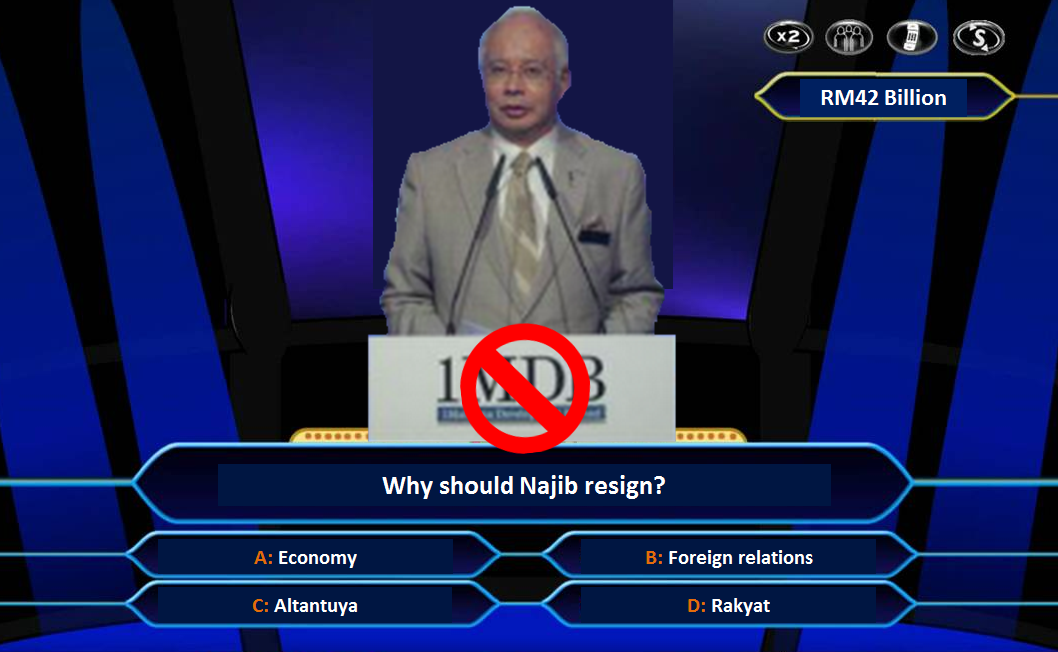 Okay okay, since 1MDB has been covered on the whole sooooo many times, we're gonna go straight into the juicy stuff. If ugaiz wanna go read 1MDB-related articles, y'all can click here, here, here, here, here (yeah it's still going), here, and here.
The total amount that has been siphoned out based on Najib's charges are RM 11,002,000,000. But waitamin, the govt recently managed to sell off the Equanimity to Genting to get back some money from 1MDB for RM 514.14 million. Just in case y'all forgot how lavish it is, y'all can read about it here.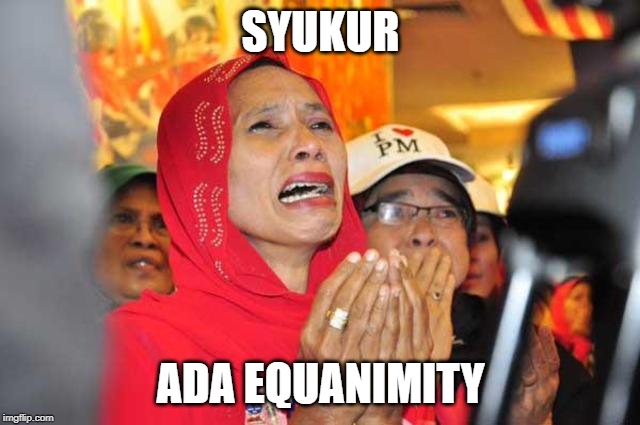 With that in mind, lets just break the remaining amount of money that was allegedly taken for 1MDB from govt funds.
4.1 KWAP lending money to 1MDB
Alleged cost to Rakyat: RM 4,000,000,000
So, most of ugaiz may have already known the charges Najib has faced in relation to SRC International. Yea, yea, the alleged misuse of RM42 million. But what some of ugaiz may not have known is how the Civil Service Pension Fund (KWAP) was actually involved with SRC International's scandal as well!
According to an investigation conducted by the Swiss authorities, KWAP has lent USD800 million (RM3.2 billion) to SRC International and this fund was allegedly misappropriated. Back in 2016, the Swiss authorities didn't release more info on this but, just recently, Najib was reportedly accused of being involved with KWAP's decision to lend RM4 billion to SRC International.
4.2 KLIA, BR1M, ECRL, Khazanah and Bank Negara giving money to pay IPIC
Alleged cost to Rakyat: RM 6,600,000,000 + RM 1,200,000,000 billion (Khazanah) = RM 7,800,000,000
As it turns out, not all the money taken out from public funds allegedly end up in Najib & Co's pocket la. Some of them were allegedly used to pay back 1MDB's dues to Abu Dhabi's International Petroleum Investment Company (IPIC).
So, between 2016 to 2017, both Najib and former Treasury secretary-general, Tan Sri Dr Mohd Irwan Serigar Abdullah, allegedly misused govt funds and allocations entrusted to them like the ones for KLIA (RM220 million) and even BR1M (RM1.3 billion) to pay IPIC.
Earlier we mentioned that some part of the excess money from ECRL was used to pay back 1MDB. As it turns out, Najib and Irwan was accused with misusing RM1.26 billion from the fund that was supposedly used for ECRL to pay back IPIC. You can actually see the alleged payments made by CCCC from ECRL's leaked documents reported by Sarawak Report:
Besides that, there were reports by that Najib and Irwan was accused with using RM2 billion which was raised from a land agreement sale with Bank Negara Malaysia to pay some debts with IPIC.
Another fund that was probably used but wasn't mentioned in the Malaysiakini's inforgraphic was Khazanah. The govt had allegedly used some of Khazanah's fund to pay RM1.2 billion to IPIC. While Khazanah claimed that it couldn't do much back then because the Finance Ministry was the sole shareholder of the fund, it didn't actually respond whether the money was really used to pay 1MDB's debts.
With all the given amount of money…
How much money has the rakyat allegedly lost??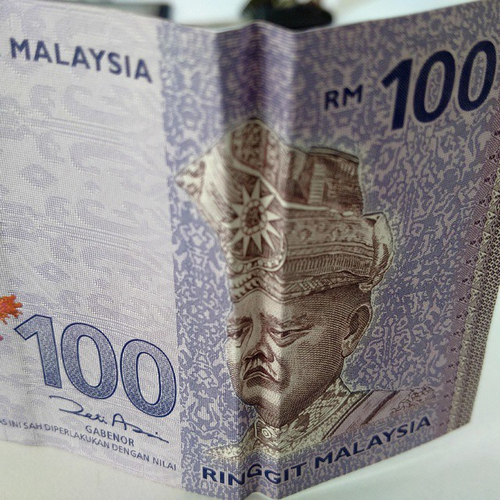 The amount of charges, and the amount of money involved is just mind boggling. Even Dr. Evil would need a calculator. Just to clarify with ugaiz, Najib & Co aren't charged with all the cases we mentioned above la which means not all the amount we mentioned were pocketed by them. So, we came up with two possible scenarios.
The ideal estimation would include the least possible amount of money that Najib & Co was accused of siphoning, based on the court documents, which is…
RM 0 (Solar project) + RM 800,000,000 (EPF) + RM 18,680,000,000 (ECRL) + RM 3,700,000,000 (Submarine) + RM 11,687,860,000 (1MDB) = RM 34,867,860,000 

Divide that amount to the population of Malaysia (31.62mil) = RM 1102.70 per rakyat
With this kind of money, the govt can actually pay each rakyat, including babies and old people, a one-off minimum wage of RM1,100! And according to this scenario, Najib & Co allegedly pocketed RM 2,470,900,000 from the solar project and 1MDB.
But wait, we might not have allegedly lost this much of money la. This is because there are possibilities that the govt is getting back the money from
But let's look at the worst case scenario. If all of it is true, AND if we get nothing back (except equanimity la, that one confirm di. Thanks Genting!)…
RM 1,250,000,000 (Solar project) + RM 7,400,000,000 (EPF) + RM 18,680,000,000 (ECRL) + RM 4,700,000,000 (Submarine) + RM 11,687,860,000 (1MDB) = RM 43,717,860,000 

Divide that amount to the population of Malaysia (31.62mil) = RM 1,382.60 per rakyat
Wow. So these days, that could apparently get you a 55-inch UHD LED LEDGEDLY TV for every man woman and child in Malaysia! Meanwhile, Najib & Co COULD have pocketed RM 10,536,900,000 from all the cases above. Unlikely la, but the fact that our 0 key on our keyboard is worn out after this article, it's a potentially sad state of affairs for our country.
To be honest, we're actually unsure if we got ALL of their scandals. Do let us know if there's anything that we missed from the list in the comment section below.
At the time of writing, Najib and Rosmah are currently being tried in court and with numerous delays already, it'll probably be a while before the real figure emerges.
Co-written by Kristen and Sabrina.